Lab Filtration Simplified
Efficient Solutions for Small Labs
Lab Filtration Simplified
Efficient Solutions for Small Labs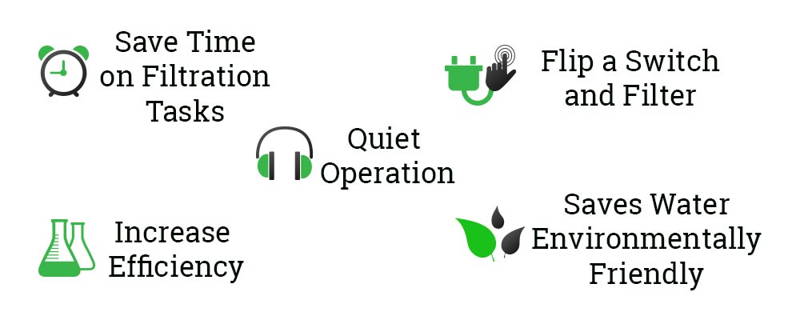 Filtr8 Labs develops products that help small businesses, schools, and home users that do not have a centralized lab vacuum pump system. Use our laboratory vacuum pump with your vacuum filtration apparatus or select one of our high quality kits.
"Best vacuum filter I have ever used. Excellent bang for your buck with trustworthy glass. Above all, their customer service is unmatched. Mike Steele, from Filtr8, helped me out with everything I needed. Highly recommend." Corey R.
"I do a lot of filtered titrations of paper pulp. Previously I have used a manual hand vacuum pump when needed, but with one hand occupied it did not allow me to hold the Büchner funnel tight until the vacuum could seal the gasket. This little lab pump is just what I needed. The vacuum could stand to be a little stronger, but it is enough to give me what I need and it is now an indispensable tool. It is quiet, light weight, small enough to pack in a small corner of my instrument case." Teleskipilot
"This little lab pump works for me perfectly. Yea it has little suction but when you connect it to your vacuum beaker or whatever, if you let it run for a little (not even 5 minutes) the suction becomes super strong. To prove it. Connect to vacuum beaker. Place your palm over the top of the beaker making sure no air can get in and watch how strong it gets in a matter of seconds." Joe Garza
"Exactly what I wanted, very small, comparable to two cigarette packs stacked on one another, just enough pressure draw, practically silent and I like that it comes in a nice little case and with a gasket on the end of the hose to make it easier to take on or off of your instrument, I've broken filters trying to get the hose off before, but I doubt I have any need to worry w/ this!" Kyle Dorman
Fast Hands-Free Lab Filtration
Our kits feature a compact bench top electric Filtr8 lab vacuum filtration pump perfectly suited for hobbyists, students, and schools. Small labs without a centralized vacuum system will also benefit in increased productivity without using a hand filter vacuum pump.
Simply plug it to an electrical outlet, connect the tubing between the pump and flask and you are ready. Finally, to start filtering, just flip the switch and you are filtering. Shop our vacuum filtration pumps now!